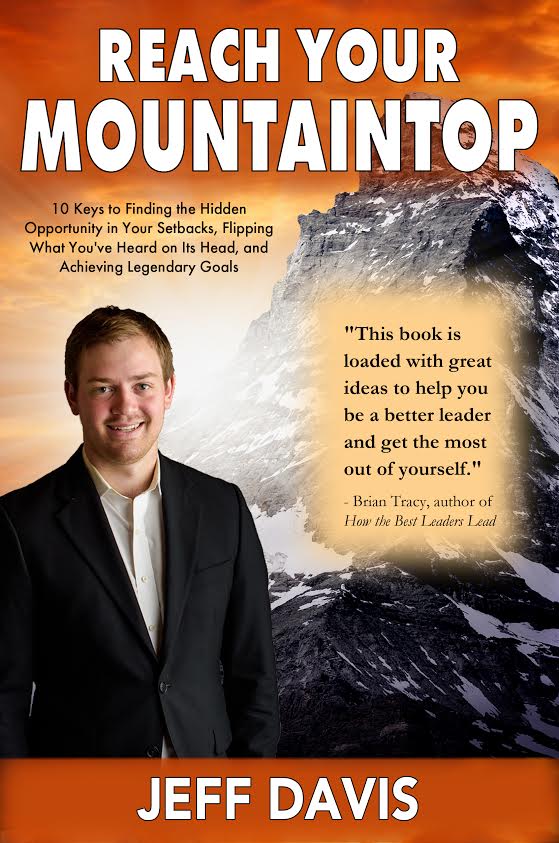 In Reach Your Mountaintop: 10 Keys to Finding the Hidden Opportunity in Your Setbacks, Flipping What You've Heard on Its Head, and Achieving Legendary Goals author Jeff Davis discusses how to find the hidden gems in your most difficult and challenging obstacles. The book contains important lessons and insights for you to transcend roadblocks and learn the skills necessary to make a real difference in the world. Featuring 28 different world-renowned thought leaders and experts, Jeff lays out practical action steps and strategies to define your own version of success and reach your next level. With attention-grabbing stories and powerful case studies, this book is a must read. Ready to shatter limitations and genuinely help other people? The process outlined here will revolutionize your life.
For updates on the book, please like Jeff's Facebook page or follow him on Twitter.
"This book is loaded with great ideas to help you be a better leader and get the most out of yourself." – Brian Tracy, entrepreneur, speaker, success expert, and author of How the Best Leaders Lead
"After reading Jeff's story and the experts he's featured, I see that he lives his message. This book shows you how to get past your obstacles, find hidden opportunities, and help other people the way you were meant to. This process will have you clear on what you want so that you can manage your time effectively and achieve your biggest goals." – Kevin Kruse, New York Times Bestselling Author of 15 Secrets Successful People Know About Time Management and keynote speaker
For blog posts with epic and enlightening insights featuring the experts in his book, please check out Jeff's blog. Also, definitely check out Jeff's epic book launch video.
If you'd like to be a part of the book launch street team to help spread this important message, please email Jeff at jeff@jeffdspeaks.com.
The content in this book is not taught in schools or most businesses. It will reshape your daily life in a helpful and productive way. Here's what Reach Your Mountaintop has to offer you:
– How to get past rock bottom, challenges, and frustrations you have to constantly deal with.
– Tactics to find the hidden opportunity and silver lining in extremely difficult situations.
– How to define and go after your own version of success.
– How to transition into the life and career you want and deserve.
– How to become an expert in your industry.
– Tips to become more emotionally intelligent.
– Methods to manage your time better and get more done in a week than most people get done in a year.
– Ways to more effectively add value to the world and serve others.
– What needs to happen so that you feel more ongoing happiness, peace, and joy.
Jeff's speech from his book launch party discusses a powerful point: society does not talk about the skills most important to your success. The key to success is to define and go after your own version of success, not what other people think, say, do, expect, and want. This book is your roadmap to getting everything you ever wanted out of life.
Thank you for visiting this page and we look forward to seeing you at the Mountaintop!